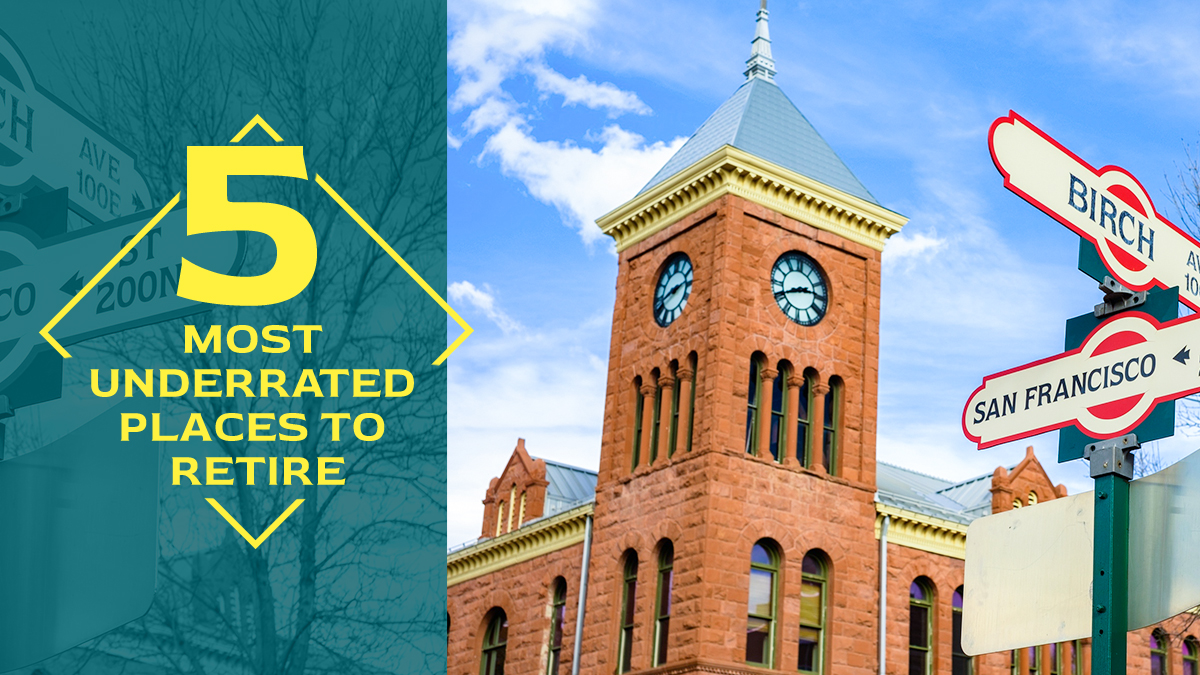 Did you know that since January 2011, an average of 10,000 Baby Boomers turns 65 every single day?
If you're approaching that magical age, you know that means–retirement. To ensure you thoroughly enjoy your golden years, you're likely wondering about the most affordable places to retire.
Florida has been the number one state to retire in for decades, but it's far from the only choice. Lots of other cities offer affordable living, excellent health care, and a comfortable climate.
Our Picks
1. Savannah, Georgia
If you enjoy southern hospitality, great food, and warm winters, Savannah might be the perfect city for you.
Flanked by gorgeous moss-covered oak trees, Savannah is one of America's most scenic and historic cities. The cost of living is a full 14% below the national average, with home prices averaging around $118,000.
The city is very walkable with plenty of events happening year-round. Winters are mild and, with only 146,000 inhabitants, it never feels too crowded.
2. Flagstaff, Arizona
If you like the idea of the desert but don't want to deal with blistering temperatures, why not consider northern Arizona?
The beautiful city of Flagstaff sits almost 7,000 feet above sea level, ensuring the summers don't get too hot. The dry climate is ideal for anyone who doesn't like humidity.
With four moderate seasons and a reasonable cost of living, Flagstaff is an excellent choice for retirees. And with the Grand Canyon and the San Francisco Peaks in your backyard, you'll never run out of incredible scenery.
3. Clemson, South Carolina
For a city that's not too big, not too small, not too hot, and not too cold, head down to Clemson.
Yes, it's home to a famous college and football team, but it has plenty to offer retirees too. The cost of living is right at the national average, and you can purchase a comfortable home there for around $129,000.
Its warm climate, lakeside location, and high walkability ensure an active outdoor lifestyle for all.
4. Arlington, Texas
If you want to live near a big city but not inside one, Arlington could be a great choice.
Just half an hour from Dallas/Fort Worth, Arlington has all the conveniences of city life without the crowds. Median home prices sit around $129,000, and the cost of living is a tick below the national average.
Arlington is an especially great option for sports fans, as the town hosts both a major baseball and football stadium.
5. Reno, Nevada
If you don't mind four seasons, including beautifully snowy but sunny winters, Reno could be your retirement dream destination.
True, the cost of living is a little above the national average. But the state's lack of income or inheritance taxes offset the difference.
The city boasts three excellent medical centers and a higher-than-average number of doctors per capita. Casinos, Lake Tahoe, and nearby mountains and parks will give you plenty to do year-round.
Which of These Places to Retire Will You Choose?
So, which of these places to retire sounds best to you?
Whether it's eating shrimp in Savannah or hitting the slopes in Reno, you're sure to find a retirement destination that's perfect for you.
Of course, once you've retired, you'll have a lot more free time to fill. Check out our recent post on great ways to stay busy and active during retirement.
Let us help you make your retirement dream a reality.  Contact us today!