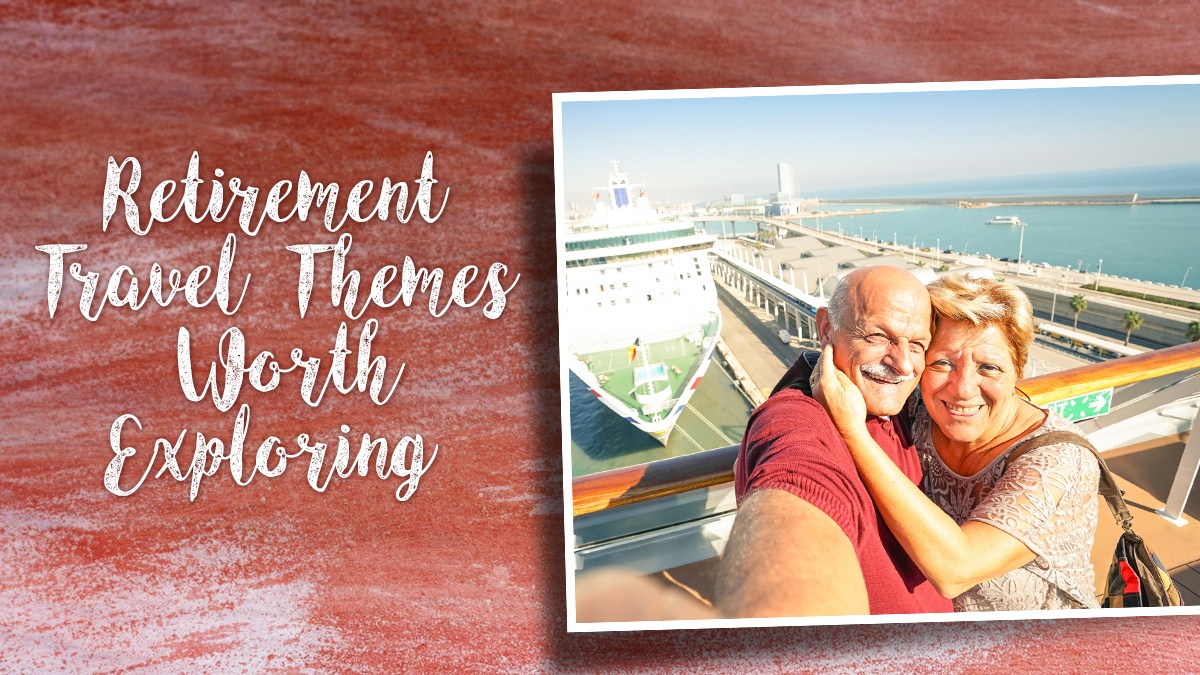 Ready to retire, but worried that you'll get bored with all the time in the world and nothing to do? Anyone who's spent most of their life working would have the same concerns. After you've explored all of your options, such as refinancing your home, it's time to have an adventure?travel the world!
The great thing about traveling is that anyone can make plans that can fit their personality.
Here are fifteen tips for retirement travel sure to fill your days with wonder and joy:
Retirement Travel on a Budget
Even the most fiscally responsible among us often have to plan a retirement budget. Here are five travel ideas for the retiree looking for cheap ways to travel.
1. Look for Senior-Specific Discounts
About to fly, fly away? Ask about senior discounts available at most major airlines. Some only offer these prices through partners like AARP, so check before you book your tickets.
2. Call the Hotel
It never hurts to ask about discounts when booking a hotel. If you're traveling for an event like a family reunion or a college reunion, your hotel may offer a special rate through the event venue. Hotels looking to fill their rooms during off-season often offer incentives, as well.
3. Explore Lodging Alternatives
Airbnb and VRBO aren't only for the millennials! Renting a unique lodging may be better for your budget, and it's more exciting than a regular old hotel.
4. Look for Free and Discounted Days at Attractions
For the tech-savvy, apps like Goldstar will let you know when free and discounted entertainment tickets are available. Attractions may also advertise admission specials and free days on their websites and social media.
5. Consider Opening a Travel-Only Credit Card
Credit card rewards programs offer everything from cash back to discounts at hotels, restaurants, and other travel necessities. If you're planning to travel often and it makes financial sense to you, look into a card that will complement your travel style.
Retirement Trips for the Memories
Some of us dream for years about the plane we're stepping on the minute we step out of the office for the last time. If you're planning the ultimate adventure, here are some things to remember.
6. Book with a Tour Company
Though tours can be more expensive than planning a trip on your own, these planned excursions will hit all the most important tourist destinations. You're sure to get the best retirement pictures! A tour may also be a good idea if you want to travel to a destination where personal safety is a concern.
7. Talk to the Locals
They know all the best cafes, restaurants, and attractions! They may also have tips on what time to visit specific sites when the lines are shorter, or the sunlight affords the best pictures.
8. Don't Be Afraid of a Long Trip
Instead of planning a few shorter trips to different states or countries, take a couple of months and explore an entire region. Especially in Europe, travel between countries via train or air is reasonably priced and very doable. Take your time and do everything on your bucket list!
9. Take a Cruise
Cruises offer the best of both worlds. The overall journey is scheduled for you, but the ports of call give you a chance to wander through foreign cities with as many or as few plans as you like.
10. Plan a Voluntour
The civic-minded can combine their travel aspirations with their passion for volunteering. Voluntourism also offers an opportunity to bond with fellow travelers while creating a lasting impact on a community.
Travel in Your Neck of the Woods
Sometimes the most excellent adventures are waiting right outside your front door! Here are some travel ideas if you're planning more weekend getaways and day trips than grand tours.
11. Read Up on Your Hometown
Many communities have literature on tourist attractions, either online or available through the local visitors' bureau. There may be a historic home or quirky museum only a few miles away that you've never seen!
12. Revisit Old Favorites With Family
Pick a location close to home you haven't visited for a while, and introduce it to the younger generation. You might pass along to a grandchild your love for camping in the national park or antiquing two towns over.
13. Take a Wandering Day
Get lost in your hometown! Take the subway line all the way to its terminating point, or drive without any directions for an hour or two. Then make a point of checking out any shops or cafes that catch your eye as you find your way home.
14. Have a Busman's Holiday
Plan a weekend to tackle a big project in your house, like planting a garden or painting the bedrooms. Reward yourself when you're done by spending a day at a local spa or splurging on a nice dinner!
15. Plan a Staycation to Recuperate Between Big Trips
Make your own house the limits of your vacation locale. It's important to take a breath now and then to relax, especially if you plan to travel often.
Make Big Plans
Use every minute of your retirement to the fullest, whether it's for retirement travel or having adventures in your backyard.
If you're worried about financing all your retirement aspirations, visit our resource center or contact us for more information on your options.